- Tip -
Assume the snails took the keys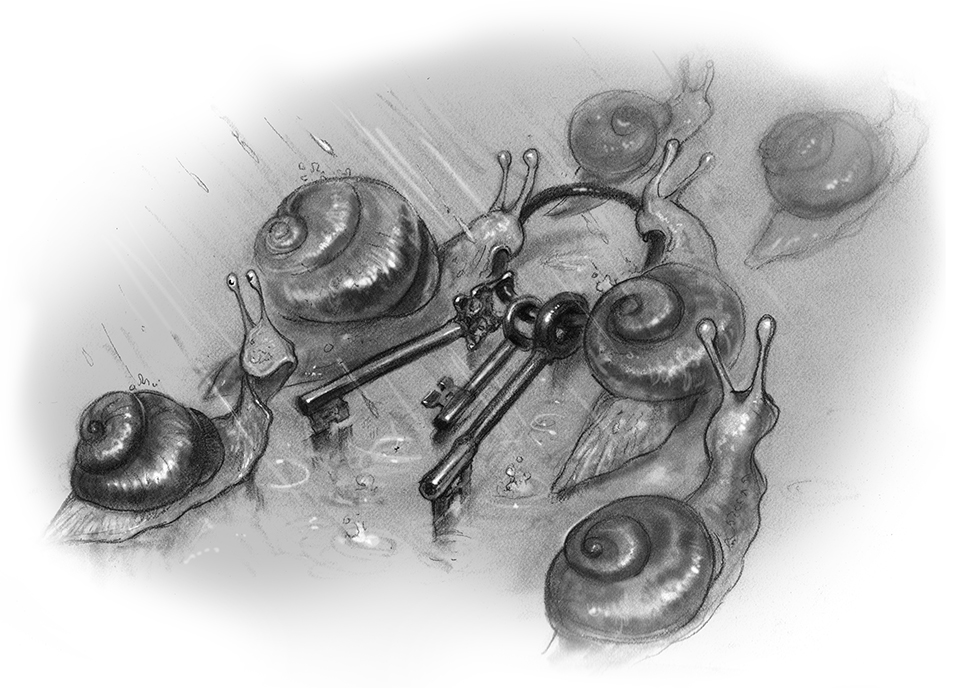 One day, I looked out the small window beside my worktable to find that it was sprinkling outside, and a very lovely all-over gray.  It seemed soft and inviting, so I blew out my candle, put on a long wrap, and shut the door behind me.
As I traveled along a familiar path, I noticed a considerable number of snails.  They were all heading in the same direction.  They looked busy and somewhat important.
I paid particular attention to the snails because it felt like the snails and I were the only creatures out in the rain.  I could hear the rain tapping on the leaves, but no other sounds of life.
I was by this time getting damp, so I turned for home.  When I reached my door, I reached into my right-side pocket for the keys.
The keys were gone.
I had no hole in my pocket, yet, somehow my keys were not there.  I checked the other pocket, I looked around at my feet, and then I looked up and back in the direction I had walked.  I must retrace my steps, I thought.
I walked the whole walk a second time, anxiously.  Everything looked the same.  The sky was exactly as gray, and the leaves were exactly as shiny and slippery green.  It was still very quiet.  But, there was one difference.  Those snails were gone.  There was no trace of them.  There was no trace of my keys, either.
There was no mystery, of course:  the snails took the keys.
New idea:  When two things suddenly stand out to you (even two things like snails and keys), put them together and see if they might make a story.  Don't worry about how snails would move heavy keys.  Perhaps two of them dragged the keys off, and, when they got tired, two more took a turn!  Find a way to explain missing keys, even if it involves a lot of little snails!  Connect things that you wouldn't normally connect.
Making a story is often about imagining what could happen.