- Tip -
Battles:  what are they actually about?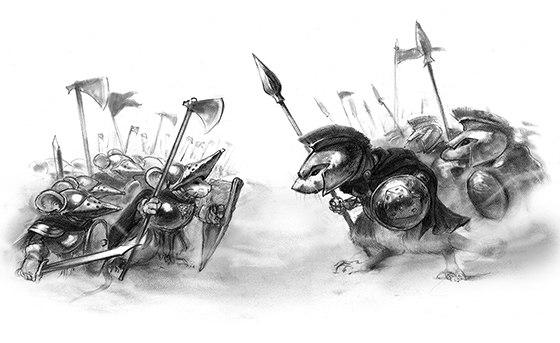 Battles are exciting.  Action, emotions, characters moving quickly!  There are sounds and surprise moves, glinting swords and stomping hooves!
There is plenty to describe to give the reader a clear and close-up view.  Your battle description might easily stretch over pages, as one side appears to be winning, and then the other side somehow gets the upper hand!
But there is something else that is very important about battles, something you will want to plan for and write about.
What are your characters battling for?
What does each side want?
If one side wins, what changes?  What is at stake?
The battle will be far more riveting if the reader knows something specific about the opposing sides!
If you spend time on the storytelling before the battle, to describe what leads up to the battle, then, when the battle erupts in your story, it will have an air of real importance and significance.  Every clang of swords will represent a strongly held desire.
New idea:  When you describe battle scenes, be sure to describe where each side comes from and what the disagreement is over.
The battle itself may feel like the most interesting scene to describe.  However, giving your characters good reasons for risking their lives is essential storytelling!  Otherwise, readers might not care about which side becomes the victor, and how that will change the direction of the story!