- Tip -
Creating a creature for your story's setting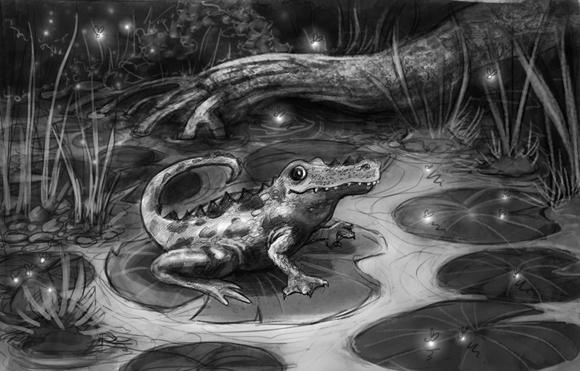 Drawing mythical creatures is so much fun because you can let your imagination run wild.  (If you have not read the tip on concocting a mythical creature, you might want to start here:  invent-your-own-mythical-creature.)
This tip is about how to create creatures that live in a particular environment.  That is, you have a setting for your story, and now you want a brand new creature to live in it!
The process is very simple.
When designing a mythical creature for a story, think about the surroundings that the creature will be living in.
For instance, if your story takes place in a forest, you can use animals often found in the forest as the inspiration for the features of your mythical creature.  An example of this could be combining the features of a squirrel, a hedgehog, a deer and an owl.
If the story takes place in a swamp, however, use animals that are native to that terrain.  Frogs, salamanders, insects, alligators, and turtles come to mind as happy swamp dwellers.
Imagining all kinds of terrain in your stories will lead to imagining all kinds of creatures!
What would a mythical creature that lived on a glacier look like?  Or, what about one that might live in a blistering hot desert?  Your imagination will tell you if you follow it.