- Tip -
Pack a sketchbook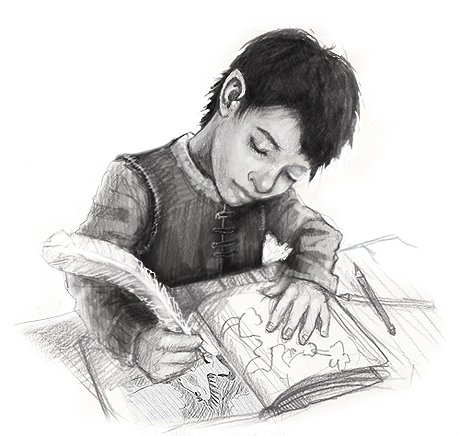 One of the most important tools for illustrator elves is the sketchbook!
The sketchbook is where early stages of our ideas take place. It is where we experiment and where we learn.  So, if you would like to improve your drawings skills, I encourage you to keep a sketchbook.
Elf elders suggest:
• Finding a sketchbook that fits in our bag, so it is easy to bring  anywhere we go—because you never know when inspiration will strike!
• When inspiration does strike, we want to be ready, so we outfit our bag with a pencil case, too.
•  When we are out, we practice sketching things we see around us, or just something we feel like drawing at that moment—maybe we like dragons, so we sit for a few moments to sketch a dragon!
•  We can doodle, we can do anything we want in our sketchbook.
I also write things down that inspire me.  If I hear a good song, I write down the words, or if I find passages in a story that inspire me, I jot those down. Eventually, my sketchbook becomes a big idea map.
I like to take out my sketchbook when I am sitting on a wilderwagon or in an elven tea house.  These are places with a lot of characters passing by.  You can get a lot of practice and inspiration from watching characters walking by, however, you do have to be mindful that some (like trolls) may not welcome being drawn.  I pick my subjects carefully.
I thought you might like to see a couple of pages from one of my old sketchbooks.  And that brings up another point:  sketchbooks are good things to keep!