One of the simplest pieces of advice we can give to those who orbit the artist is:  take as much as you can
out of the way
.  Try to remove the pressure of perfection, create a climate of ample time, act to counteract feelings of the agony of defeat, cultivate an atmosphere in which rough drafts are positively
expected
to be short, modest and rudimentary.
People are naturally creative.  This is our firm conviction.  The creativity is assuredly there.  What tends to interrupt a natural flow of creativity are pressures and worries, things that teachers can often almost magically lessen.
We are presently working on creating Teacher Tips, tips that dovetail and support the tips we are offering directly to the artist.  (Sometimes it helps if both the artist and the teacher do something slightly different in a particular story moment.)
Our ideas for how to use the workshop are as follows.  If you have others, please let us know.  We would be delighted to share!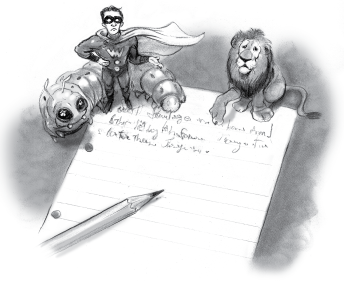 Begin a writing hour with a Story Elves tip
If your setting is a classroom, a tip could be read aloud or put up on an overhead projector or Smartboard.
Note that each tip can be downloaded separately as a printable .PDF file. If you locate a stack of parchment-looking paper to print on, the tip will look very elven indeed.
Post tips on a wall
Artists can then wander over and look for help during writing time.
Print additional copies of tips
for a binder (or two, or three) which can circulate and become a familiar resource at writing time. Sometimes just one idea, just one suggestion, can move a writer forward.
Include tips in your classroom newsletter
and/or school newsletter, to get parents thinking about writing and story making, and how they can support their brood of artists at home.
Bookmark theStoryElves.com on computers
(home, classroom, computer lab), so that traveling to the workshop is easy.
Use theStoryElves.com at every stage
Many youngsters sit down and independently work on creating their own books. Many classrooms work on books as projects. This workshop provides suggestions for writing, editing, illustrating and designing stories. That is, we can help at each stage. Be sure to visit when your artist or class is publishing stories.
If you need a tip that's not to be found in the workshop, please write!  We enjoy tough questions and tough cases.
—The Story Elves